Reviews
I'm relatively new to distance cycling. I completed a training century ride with my bike's original saddle and had fairly significant issues with the "man-parts." Then bought a Kontact saddle for The Assault on Mt Mitchell, 2014. Had absolutely NO issues between the legs for the whole ride, which I slowly completed in 10h 39m. Thanks for a wonderful piece of equipment!
Craig
Savannah, GA


Thanks to the team at Kontact. For me, their saddle is simply the best and performs as they said it would.
Viki
Waikato New Zealand


Love Kontact!
I purchased the Kontact seat for my hybrid bike. You heard that right. on a hybrid. And it works great. I'm a mother of 3 and just wasn't sure how well this seat would fit but with chronic issues occurring on my 10 mile bike commute, I took a chance on the Kontact seat…after watching your superb anatomy videos…and I really feel a difference.
Thank you!
Dana
Chicago, IL


Outstanding customer service. The seat is every bit as good as described by video.
Thank you,
Lorie
Lakeport, CA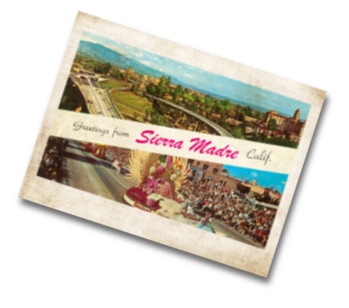 "Although I am relatively new to riding – having taken up Triathlons ~ 2 years ago – it didn't take me long to figure out that my saddle was critical to me staying in the game. Of course, I stuck with the saddle my bike came with when I first bought the bike (supposedly a "high end saddle), assuming my "saddle soreness" was due to my inexperience. I had the seat re-fitted at the shop where I bought the bike, made sure my riding mechanics were correct, and still I was never comfortable on the seat beyond 5 or 10 miles. (My average rides in training for Olympic distance triathlon are 20-40 miles).
I am also a medical doctor, practicing Urology for the last 15 years. I have had many discussions with my "cycling" patients over the years, about the potential problems of ED associated with riding. And while there remains some controversy over the severity of ED that may develop in long distance riders, Joshua Cohen's video on anatomy and how arteries and nerves may be impacted while riding, is very accurate.
I switched to the Kontact Seat about two months ago after one of my patients – an experienced rider – had suggested it (he had gone through many saddles in his time, and said he was very impressed with this design). It took me a couple of rides to get adjusted to the seat, and to get the seat adjusted properly to where I was using it correctly. But since then, it has been like night and day. Previously, I could never find the "sweet spot" when riding, and now I find it every ride. The seat meets the "sit bone" area perfectly when riding in my standard position, and works even better in the "Tri position." It puts all the pressure where you want it, and no pressure to the perineal area (where all of the arteries and nerves run).
I am definitely sold on this seat, and would highly recommend it both for comfort as well as for the anatomic benefit.
Dr. Williams
Urologist
Sierra Madre, CA

Val sent us these great pics!
Here's his "Ride to work, beater bike, the touring bike, and the try to go fast bike. It's the only saddle I've found that works for me."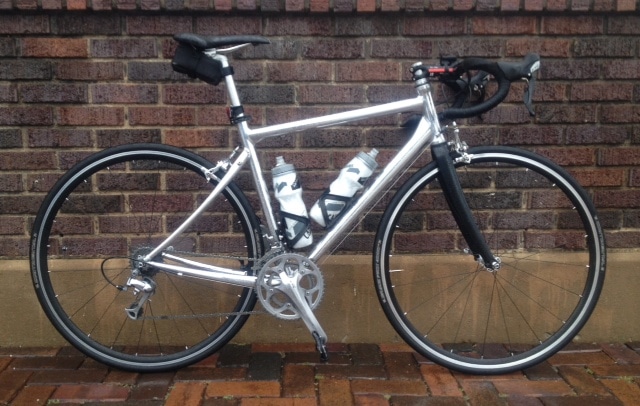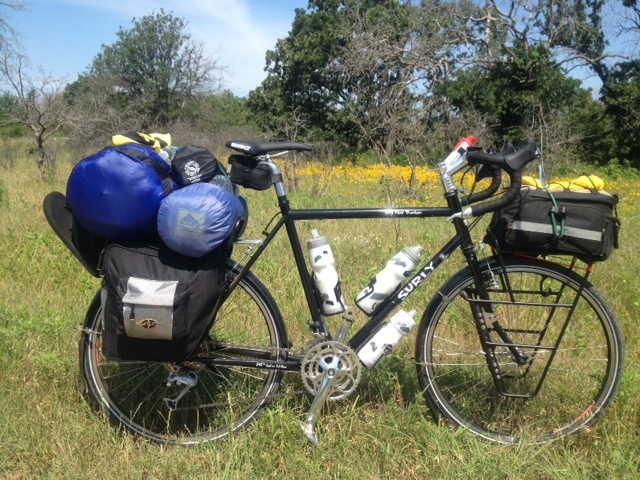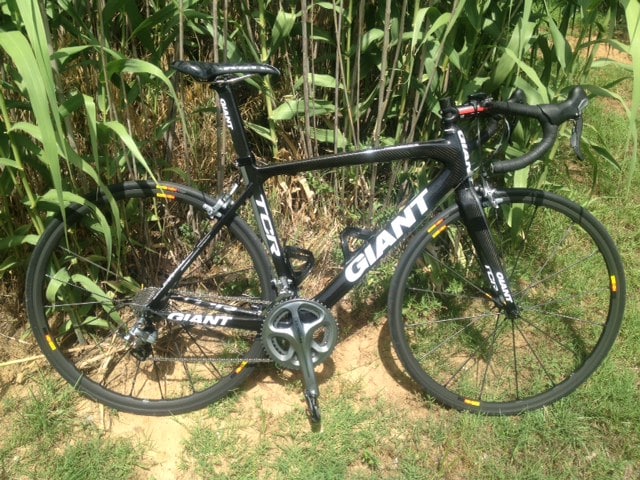 Val D.

Here's a photo from Paul K, showing his brand new Kontact seat with his beautiful Pinarello Dogma!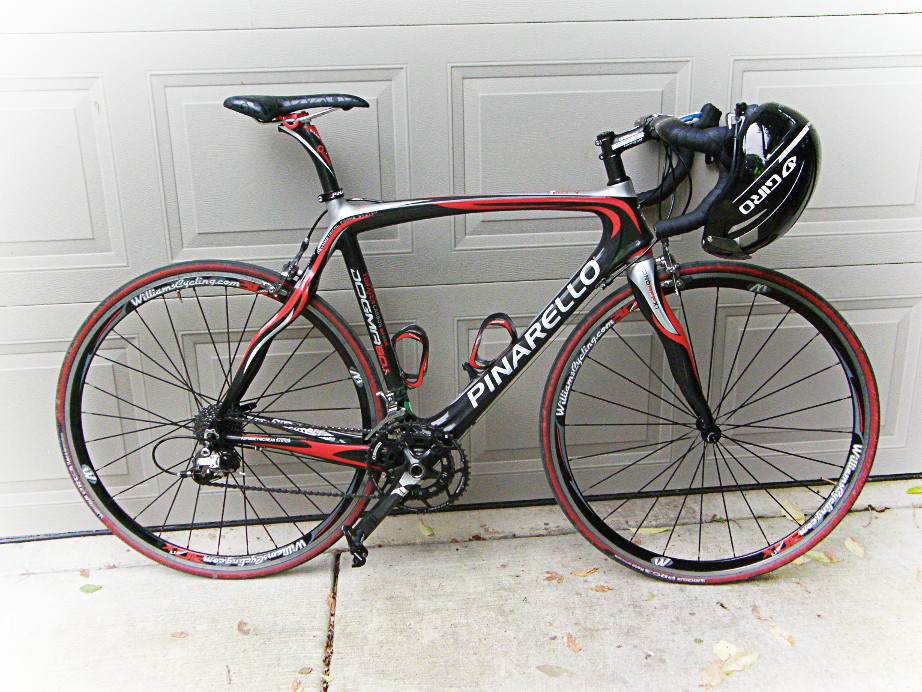 Paul K.

Here's a photo from Jonathan W, showing his Kontact seat after riding the 70 mile Tyranena Oktoberfest Bike Ride.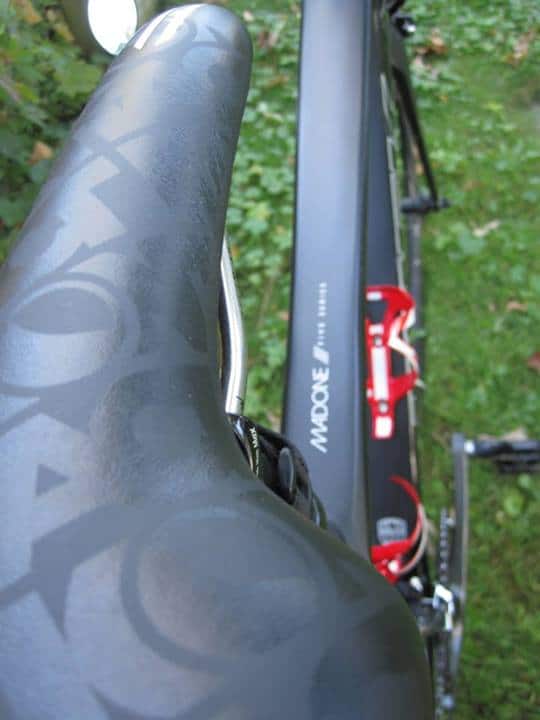 Jonathan W.

Yet another Kontact seat on a very nicely spec'd Pinarello Dogma! (Maybe we should get together with Pinarello!)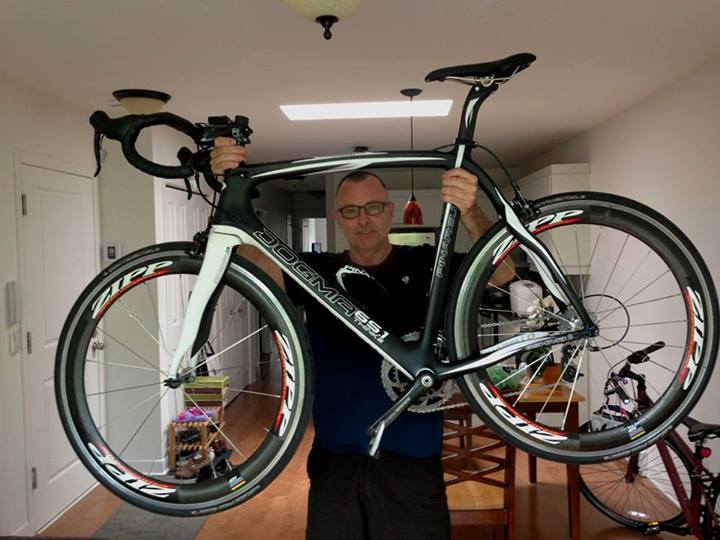 Best seat I ever had.
David L.

Kontact bike seats can make any bike feel more comfortable. I imagine this bike probably rides pretty well 😉 lol This is a gorgeous bike!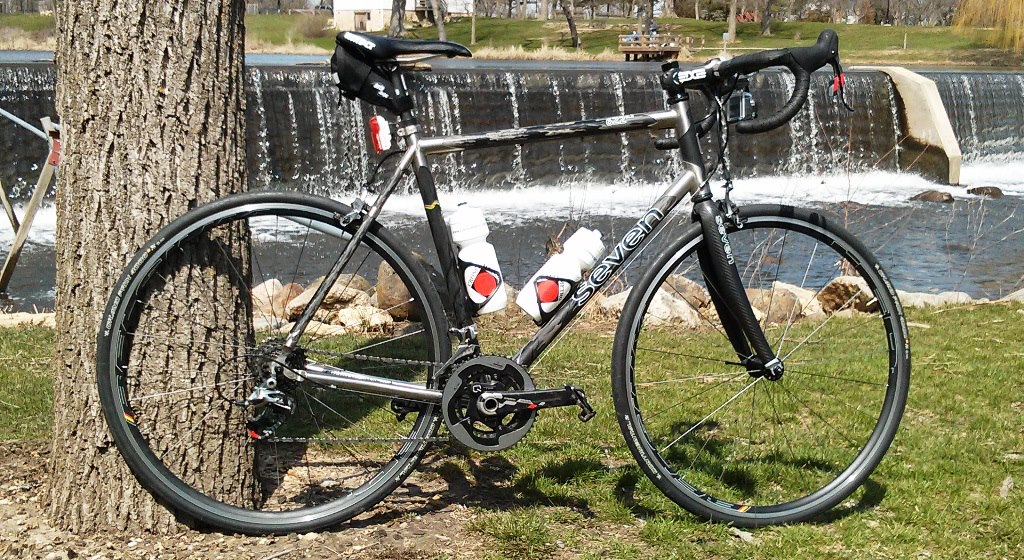 Dear Fellow Cyclists,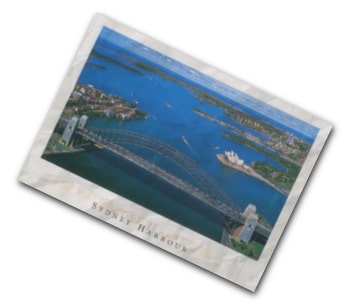 I have been hunting around for a better saddle then the Arione which I have been riding for the past 4 years. The 6 years before that in Melbourne I was mainly on Turbomatics with short dabbles with a cut out saddle
and a Rolls. A few weeks ago I tried an SMP and it did not work for me. So I basically came to the conclusion after a bit of trial and error that a flat saddle like the Arione was right for me but it wasn't the Holy Grail. I didn't want to rush out and buy another flat saddle from one of the major companies without being reasonably confident it was going to be an improvement on the Arione.
The above saddle [Kontact Saddle] was then brought to my attention and after a few emails to the Kontact people I thought I would give it a try. When I received the saddle I was pretty confident even before I put it on the bike that it was going to suite me but the proof is always in the riding. With the Arione I was set up on a zero setback Thomson Post and to get the same position and centered on the rails with the Kontact I had to use a Thomson with setback which I had in my pile stuff us cyclist seem to collect.
My first ride was my normal 40k loop through McCarrs Creek that I do before work and as soon as I sat down I knew I was on a winner. The only part that feels like it is touching the saddle is your sit bones. There is no pressure on the never region and your legs feel like they can flow more freely. I made some minor adjustments to the tilt for my second ride on sat which was a 105k through the Gorges was the same result with only sit bones in touch with the saddle. I did play around with my saddle height until I had it dialed in on this ride.
They produce one saddle which obviously has been well researched.
So the bottom line is I highly recommend giving one a try if you in the market for a new saddle as I intend to get a second one for my other bike. Depending on your current set up it might require a different seat post which is a small price for comfort. As an added bonus it is light, looks good and they have a 30 day return policy if not happy.
Disclaimer:
I have no connection to the company and receive no commission. Best put this for my lawyer mates.
Cheers
Stephen

Sydney NSW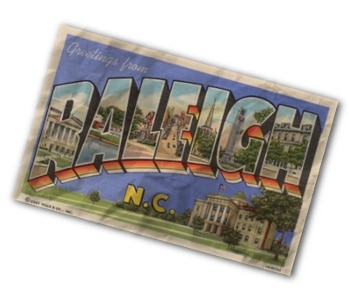 Several years ago I bought the E3, and it's the only saddle I've ever been able to ride on for long distances without getting a painful rear end. A couple of years ago, my E3 cracked and started falling apart. I went to buy another one and was dismayed that they were no longer in production. I bought a couple of replacement saddles, but I couldn't go five miles without being in pain. So I taped up the E3 as tight as I could, and I've been riding on it like that for the last two years.
When I saw the picture of the Kontact saddle in the newsletter yesterday, I immediately thought it looked a lot like the E3. And when I read that it's from by the same guy who designed the E3, I immediately went to Kontactbike.com to buy one. Now I'm looking forward to a spring and summer of long, pain-free rides. Thank you!
Tom

Raleigh, NC

I received my Kontact saddle at 11:00 a.m. this morning Feb. 29th. I then installed it, adjusted it, and climbed aboard. went 10 miles on my Kinetic trainer riding my Jamis Xeinith Endura 2. Wow!!! I cannot believe the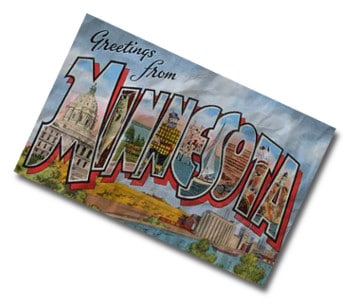 difference it made in my comfort level. No numbness for the boys. That was the main reason I wanted to try this saddle. Like I said I only went 10 stationary miles but I can tell 50 miles will be no problem on the road. Thanks for engineering such a great product.

Roger

North Oaks, MN


The Kontact seat is phenomenal. I'm able to concentrate on power pedaling without worrying about pain. I've been riding to/from work (about 16 miles) up to 3 times per week so far. I can't say enough about how much pleasure has returned to road biking.

Walt


I rode the Kontact saddle on 2 epic winter rides, the first was Monroe, WA, to Wenatchee, WA, via Stevens Pass in the middle of December, 2012. The next was Lynnwood, WA, to Clallam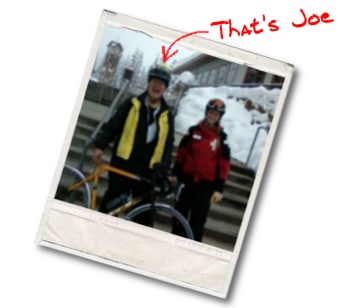 Bay, WA, across the northern shore of the Olympic peninsula. This saddle is a great comfort to me, I can now use compression running short and no padding at all!
Here is my Epic Winter Bike and photo proof that I reached Stevens Pass Summit and contacted the Ski Patrol:
Joe

Thanks for the letter, Joe! BTW, we've heard from many other riders that have told us that they can comfortably ride the Kontact seat without using padded shorts!

I got one for my bike recently and it is a really nice seat – my rides are significantly improved.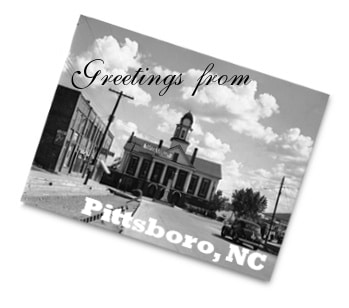 I rode indoors on rollers for an hour on Saturday and I had no numbness, whereas with my old seat I would have been very numb after 20 minutes.
David


A revelation ! … This saddle is incredible! I spent several months looking for a profile saddle which would help me bike several hours a week without feeling numbness or swelling.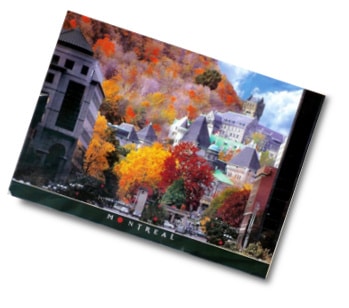 The top bike shop in my district recommended a few saddles which led to a dead end, same uncomfortable feeling, all the saddles proposed simply made my pelvic swelling worse. The bike shop pro,finally told me that I was an exception to the rule, that he had no other solution. I desperately looked for answers and thanks to the kontact saddle video, which was physiologically speaking, the solution to my problem…I quickly ordered a saddle and my numbness disappeared within a few days. I've been riding with it for several months now and this product is simply amazing !!! … A huge thank-you for designing such a great saddle.
Dom
Health and Fitness specialist
McGill University


I switched to this saddle on the advice of Jonathan Blyer at Acme bike fitters and after riding a fizik arione for more than 6 yrs i couldnt be happier. No more pain in the butt 🙂
Tom

I have had my Kontact seat for two seasons and I love it. It should be standard equipment on all bikes!
Roger

Over the years I have tried so many saddles that my wife jokes that there is a new saddle in almost every mail order box.
As a Road Bike Rider member, I had been following Joshua's discussions and have paid up for his articles and perfect bike seat book. When the Kontact saddle came out, I bought one.
It says something about the Kontact saddle that I haven't bought another since I bought mine.
Now I need to outfit my other bikes.
Scott

BicyclePaper.com May 2012
If you have been paying attention the past few years, I have written reviews on several interesting saddles such as the Koobi PRS Alpha and Selle SMP Stratos. Both of these offer something different than the norm and are designed to makes one's life better by lessening the burden placed on the genital region while riding. Kontact Bicycle Components is doing its part of questioning the status quo also.
Joshua Cohen PT, MS, is the inventor and designer who works with the collaborator and founder of Kontact, Andrew Severson. He has done extensive research on bicycle saddles, and has authored a book called Finding the Perfect Bicycle Seat. He believes that many of today's most popular and ergonomically designed seats aren't always the best choice for cyclists and that some designs actually hinder performance, and more importantly, normal blood flow.
Made with titanium rails, a carbon-reinforced body, and a leather cover, it weighs just 190 grams. Looking at it, one may think, 'it doesn't look much different,' since it does not feature cut out grooves, slots, gel pads, etc. In fact, it's a really simple looking saddle designed to utilize the sit bones as well as gluteals and hamstrings, thereby dispersing pressure.
It took some getting used to, as the shape allows the backs of the thighs to be freer from contact at the transition area, which drops off more dramatically than most other designs. The platform-type perch is unique and I often don't easily locate 'the sweet spot' that my sit bones usually find automatically; I do tend to move around a lot while riding, though.
I recently set out on a little adventure ride created by Benjamin Rainbow of Back Alley Bike Repair along with another friend. Since it was the first of such long rides this year – it was only April after all – it seemed like a longer than usual 100 miler. I hit the wall hard at around mile 80, forcing the group to stop at a produce stand so I could refuel on raw corn, kiwi, bananas, and an avocado. That said, the last thing I was worried about at that point was my ass, which is a positive testament to the Kontact's comfort factor. The following day while riding to work I noticed that my bum wasn't sore either.
The only downside I can think of is the lack of reinforcement material on the sides of the saddle where the logo is situated, which will inevitably become scuffed up from leaning the bike against something or crashing (it honestly doesn't happen often – knock on wood here).
If you're either experiencing discomfort in the nether regions or are in the market for a new branch to rest your tail feathers upon, give the Kontact Anatomical a try.

Road.cc Mar 2012
The Kontact Anatomical race saddle feels precisely how a good saddle should feel and I've managed several hundred mixed-terrain miles without a hint of discomfort, and that's pretty impressive from a perch hovering around 200g.
The one amendment I would like to see are scuff bumpers – not that you'd put an 80 quid saddle on a town hack but since bikes are typically propped by their saddles against walls, posts and other street furniture, it makes sense to add some reinforcement in these key areas.
Titanium rails, carbon fibre/plastic bases and leather covers are hardly front-page news but there's some secrecy when it comes to the padding and a damper nestling between the chassis and rails. My money says its some kind of elastomer, although to some extent the origins aren't particularly significant so long as it works and doesn't require any specialist care. Sharing clear similarities with Selle Italia's classic Flite and BBB's unfortunately named Razor, the rear is designed with plentiful support to the ischial tuberosities (sit bones to you and me) while the cutaway nose is shaped to relieve pressure up front.
Twenty miles into our first outing, I knew we were soul-mates with all the components working harmoniously to give a magic carpet experience, without undue bulk (although we're told a 'recreational' model is in the pipeline). Good quality titanium rails offer plenty of zing over poor surfaces while the clever little damper and carbon composite base extra comfort, suggesting this is a worthy contender for cyclocross duties too.
I used this saddle on a Univega with an upright ride position and a Teenage Dream for some long, steady miles on the tri bars and it was equally comfortable throughout.
Verdict
Impressive minimalist saddle for all-round road duties, although scuff bumpers would be a practical tweak.

RoadBikeRider.com Feb 2012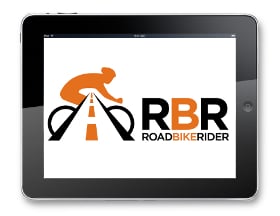 HOT!

Light weight
Premium materials (titanium rails, carbon-reinforced base, leather cover)
Sleek, no-frills design
Wide, flat sitting area works as advertised
NOT!
Hard padding requires getting used to
Not much room to shift positions
How obtained:
purchased from company
The entrepreneurial spirit is woven into the fabric of bike technology. How often has a cyclist or mechanic said to themselves, I can make a better (insert tool or component name here) than that thing? And another usiness was born.
Such is the case with the Kontact Anatomical Saddle. Joshua Cohen, a physical therapist, wrote his graduate thesis on male ergonomic bicycle seat design. Then, distilling his voluminous scholarly research, he wrote Finding the Perfect Bicycle Seat (and is putting the finishing touches on a new eBook for RBR, An Illustrated Guide to Choosing a Bike Seat, which goes on sale next week).
Along the way, as he states in his new eBook, You can not study bicycle seats for years without developing your own ideas about an improved design. The Kontact saddle is actually an update of his previous seat design alled the E3 Form that was sold for a time by Performance Bikes. Over the years, he has received so much demand from owners of the previous seat that he decided to retool the design and bring it back into production.
Devoid of Gimmicks
One of the first things you notice about the Kontact is that it does not have any of the hallmarks of modern saddle design (no grooves, no slots, no wedges, no gel, no flex, no special materials in different areas of the addle, etc.). If you read his books, you'll know why. He has a thorough, understanding of how anatomy, riding style, position on the bike and other factors combine with pressure exerted on the saddle to cause saddle-related discomfort… and how, through design, to help avoid it.
The foundational element of the Kontact design is the wide, flat rear surface made to support the sit bones and minimize nerve and artery compression. I noticed immediately the first time I sat on the saddle, with my hands on the hoods, that the hard foam padding (as with most high-end saddles, there is not much of it) really seemed to support my weight directly on my sit bones. It provides a feeling of slight elevation, vs. your body really ushing down onto the saddle.
This is exactly what Kontact claims makes the seat work, but it does take some time to adapt to. It took me a couple weeks of regular rides for my muscles and tissue around my sit bones to get used to the saddle. (Because of its width, the seat is designed to accommodate a variety of sit bone widths, and the company says it is fine for both men and women.)
All the while, though, I could feel that because the seat met my sit bones so directly, my perineum was not under as much pressure as with my previous saddle, a fizik Arione. I had ridden the Arione for a couple years, and I recall it taking several weeks to break my butt into that one, so a couple weeks of adaptation time was an improvement.
Shape Shifted
Another difference between the Kontact and the more traditional teardrop-shaped saddles like the Arione is the abrupt transition angle between the rear platform and the nose of the seat. Most other saddles slowly transition from rear to front, which leaves an area that can cause friction on your inner thighs, and potentially hinder your pedal stroke.
The Arione's wing flex was designed to allow the saddle to flex in this area. The lessened rigidity was supposed to allow for a freer stroke. The Kontact achieves the same thing, but by simply doing away with that part of the saddle. There's nothing there to cause friction or impede a smooth pedal turn.
A benefit of this shape is the ability to slide back slightly on the saddle when climbing, while still having a free, efficient stroke. A drawback is that if you are the type of rider who likes to shift far forward on occasion, this saddle will not easily allow that.
According to the company, The patented design increases blood oxygen flow by an average of 4x over a traditional tear-drop shaped bicycle seat design while riding in an aero, drop bar position. The saddle is, to me, quite comfortable both in the drops and with my aero bars on the bike. Part of the reason is the rolling forward of the hips, which takes the direct pressure off the sit bones. Even so, the aero position still doesn't cause undue perineal pressure.
The Bottom Line
It would not be a proper saddle review without noting that saddles are the most personal choice of equipment on a bike. We all have slight differences in anatomy, differences in riding style and preferred position that make one man's treasured saddle another man's trash. The Kontact to me is a treasure. I have ridden it on multi-day, high-mileage tours, hard group rides, hammerfests and a time trial. For me, it performs as advertised.


Bike Radar.com Feb 2012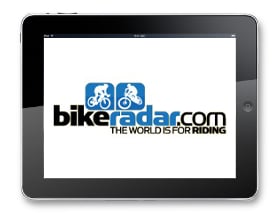 Kontact is a new saddle brand from cyclist, physical therapist and biomechanics expert Joshua Cohen. After years of research he wrote a thesis and a book, Finding the Perfect Bicycle Seat. He's come up with a design that's claimed to give significant performance improvements. The 198g Anatomical saddle is said to improve blood
flow and oxygen levels in the places that matter, with a shape designed to improve efficiency by allowing greater leg motion throughout the pedal stroke.
It's made from a mixture of materials, with titanium alloy rails, a carbon and plastic body, and a leather cover.

Bikeminimalism.com Jan 2012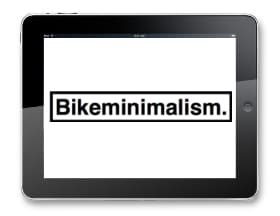 Will from HubJub dropped me a line about a new revolutionary saddle design, Kontact. So the Bikeminimalism team took a closer look at this racing saddle and yes, once again we're impressed.
The saddle is the first Kontact released, is designed by a young Joshua Cohen, an experienced cyclist and physical therapist with a Master's degree in biomechanics.
Cohen took a long and extensive study on the current "ergonomic" saddles to discover that their designs were generally not beneficial to the bloodflow to genital areas. All of you have noted the symptoms: discomfort and the infamous numb nuts effect, which in time could cause, wait for it — impotence. Cohen's findings were based on a Master's thesis he did at UNC Chapel Hill on male ergonomic bicycle seat design, and the study was later published in the Journal of Sports Medicine and Physical Fitness.
As a passionate cyclist, Cohen started developing a saddle that would help those symptoms and, more importantly, the horrendous results. He came up with a design that would provide more support to the sit bones and take some pressure off the groin area. That design became the Kontact.
The seat is not only ergonomic. The ground-breakingly steep transition between the nose and rear area also allows an unobstructed and more efficient pedal stroke, whilst vibration is reduced significantly thanks to Kontakt's unique rail attachment. And that translates to better cadence and speed!
We say this seat gives better response dodging cars and bombing hills, which is why we're all for it! And it's not a coincidence that HubJub, which to us is synonymous with service, expertise and quality, has become the UK distributor. So lose your Zoncolan and trade it in for a stiffy at:
hubjub.co.uk or find out more at kontactbike.com